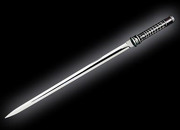 Blade posseses a sword that was hand crafted. It is a fine weapon and is used as his primary weapon. It is made from Titanium and it is acid edged. One of its most notable features is a trigger on the handle. If someone unwittingly picked up the sword a timer set to 5 to 10 seconds will go off and 4 spikes will spontaneously come from the handle causing the victim's hand to some what explode. To deactivate the trigger you hit a button around the guard.
Ad blocker interference detected!
Wikia is a free-to-use site that makes money from advertising. We have a modified experience for viewers using ad blockers

Wikia is not accessible if you've made further modifications. Remove the custom ad blocker rule(s) and the page will load as expected.